Nissan was one of the very first automaker to enter the electric-car game before the trend took off in the US and around the world. The five-door hatchback Nissan Leaf was first introduced in December 2010 with a range of about 151 miles. Now nine years later, Nissan has introduced the new Leaf Plus with an even greater range than the 2018 model, estimated to get about 226 miles on a full charge.
Like the original model, the 2019 Nissan Leaf Plus seats five and uses the e-Pedal setup, a feature that initiates gradual braking when the driver takes his or her foot off the accelerator. The main differences with this new model are the bigger battery pack and more powerful electric motor, which give the car that extra 76-mile boost. These upgrades also translate into considerably more horsepower, now offering 214 hp over the regular Leaf's 147 hp. Both models have the same electric motor and front wheel drive. It's the Leaf Plus's higher-capacity 62-kilowatt-hour lithium-ion battery that accounts for this increase in output. This range launches the Leaf Plus to the front of the electric vehicle game alongside the Chevrolet Bolt EV's 238 miles and the Tesla Model 3's 260 miles. The electric motor also puts our about 250 pounds-feet of torque, which means better passing performance at 13% quicker acceleration from 50 mpg to 75mph.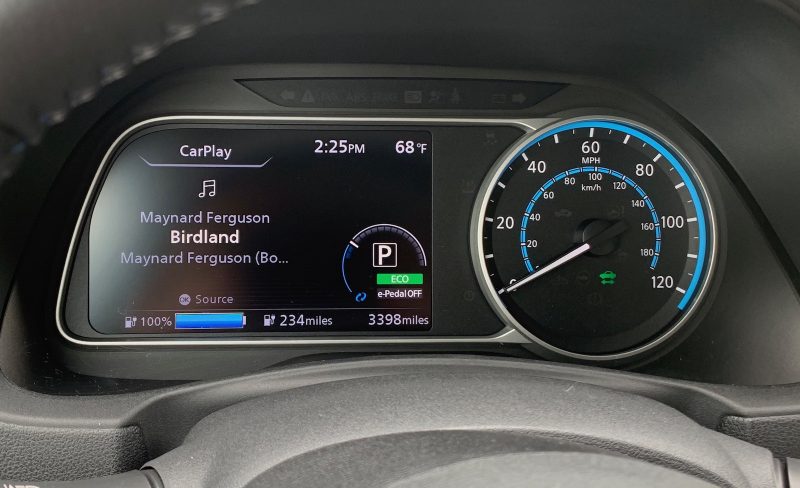 Battery updates aside, there is still plenty of standard Nissan features to love in this electric sedan, such as CarPlay coming standard and interfacing easily with the NissanConnect infotainment system. All Leaf Plus models come with an 8-inch touchscreen as well as an analog speedometer and digital information display that clearly readout your car's current battery level estimated range. The Leaf Plus starts at $36,550, so come visit us at Crown Nissan and test-drive one today.